Harris Pye, a Joulon company, has successfully completed fast turnaround modification to the mooring systems for two LNG tankers whilst at anchor off the coast of Africa. Both modifications involved a tight schedule and were undertaken in order for the tankers to be able to call at key Indian LNG terminals.
In each instance the scope of work was to supply a complete turnkey for the installation of additional spring line on the aft port side of each vessel.
The modifications consisted of installation of two new pedestal roller fairleads in way of the cross-deck passageway; modifications to the existing starboard side M3 winch foundation, fabrication and installation of new snap back protection cage installed on the port side M4/M3 winch platform and all associated under deck stiffening
As Harris Pye's Chief Operating Officer, Chris David, explains: "It was an exciting project as we had to work to a tight schedule including both fabrication and installation. We had 12 days for the installation phase since both vessels had to leave port for their next voyage. The modification for the first vessel was completed in 12 days; while for the second vessel work was completed in just 10 days ensuring the deadline wasn't missed. We used past experience for similar projects on mooring equipment installation works undertaken for our other clients to help us rise to the challenge."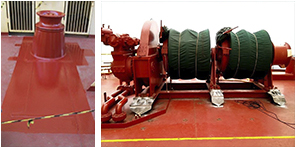 Captions:
Pic 1: Modifications to the existing winch foundation
Pic 2: HP team reinforced the underdeck structure and installed the new pedestal roller.